About the event
EXPO Congress "Business for Smart Cities" (BSC) is an annual global event which gathers the leaders of the region and international experts to address solutions to the problems of their cities, and find the most appropriate partners to develop innovative projects and services.
BSC is neither a conference nor a typical discussion event. It is a platform for decision makers of big global firms and other global businesses, and city leaders to find partners and solutions to their challenges by application of the Smart Cities concept. It also provides an opportunity for start-ups, and small and medium enterprises to identify investors and create projects of common interest. The investors may discover attractive options for providing high-return funding.
The 1st EXPO Congress "BUSINESS FOR SMART CITIES"
took place on
29-31 January 2019
at the NSC "Olimpiyskyi", Kyiv, Ukraine.
The event has gathered about 2000 participants and 140 speakers from 30 countries, including:
26 representatives of international organizations (EBRD, IFC, Global Infrastructure Hub, UNECE, HABITAT, UN Global Compact),
49 representatives of public authorities,
65 representatives of private business.
EXPO Congress was visited by delegations of 12 embassies of foreign countries in Ukraine, in particular: Austria, Azerbaijan, Israel, Kazakhstan, Kyrgyzstan, Norway, Spain, Switzerland, the Netherlands, Hungary, Japan, USA.
The exhibition included stands of foreign and Ukrainian companies and Ukrainian cities.
Detailed information about the 1
st
EXPO Congress (photo and video materials, presentations, speakers and partners of the event) is available in the relevant section of the web-site.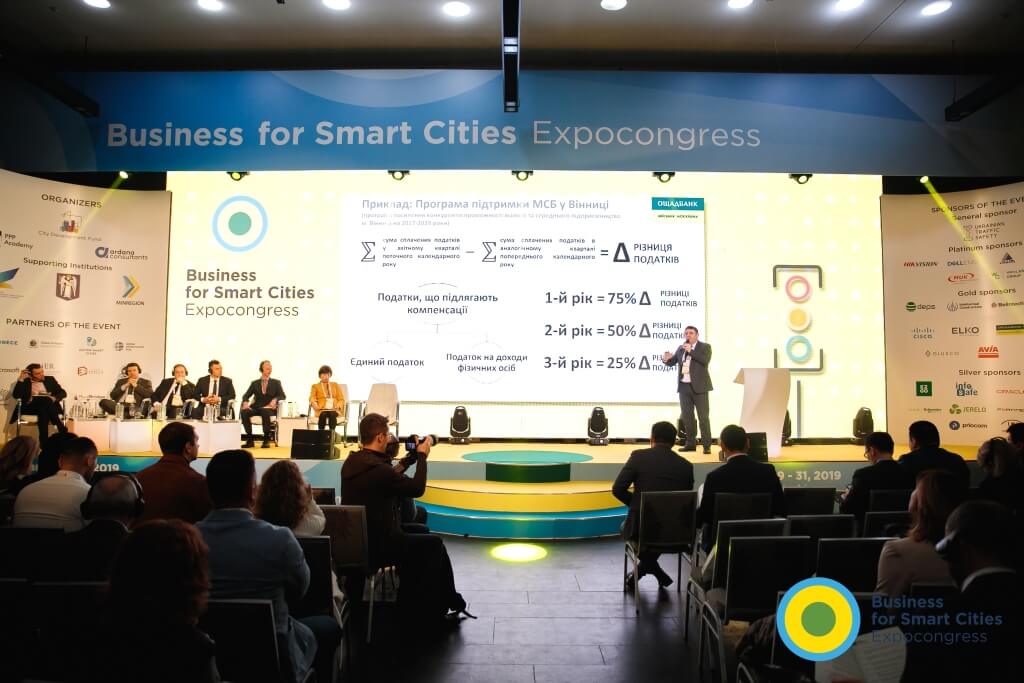 The 2nd EXPO Congress "BUSINESS FOR SMART CITIES"
will take place
22-24 April 2020
in Congress and Exhibition Center "Parkovy", Kyiv, Ukraine.
Main topic of the event –
"CITY 5.0: FROM DESIGN TO IMPLEMENTATION"
In the framework of the event it is planned:
Three congresses:
Creating new cities: governance, funds, financing mechanisms and technology
Successful examples of technological transformation of existing cities
From Smart Cities to Smart Country
Four conferences:
Devoted to concrete directions, each of which is designed for 100 participants (2 parallel conferences per day during the first two days). The speakers will present their experience in implementing projects on innovative urban areas, inclusive infrastructure, the role of social and sporting events in urban development, and the use of artificial intelligence for smart cities.
Exhibition
:
More than 5000 m2 of exhibition space, where stands of main players in smart cities will be presented.
Other events:
In the framework of the EXPO Congress, we plan to organize side events with UNECE, United Smart Cities and OIER, specialized seminars, agoras etc.
Subscribe to our newsletter and you will receive updated information!